Scent & Violet Selected as 2018 Top Floral Designer in Houston by Expertise.com
Posted by:

admin February 5th, 2018
After reviewing 523 floral designers in the Houston area, Expertise.com selected the top 20 using a curated process that ensured the best of the best was found. Scent & Violet Florist, a locally owned and operated floral company that has served the Houston and surrounding area for many years, was awarded a spot on the top 20 list.
"Our team is thrilled to have our hard work, dedication to excellence and superior customer service recognized by a ranking service as prestigious as Expertise.com" stated company representative Amra Kolasinac. "We have always been committed to providing superior flower arrangements and gift options and believe this is what has helped us achieve this recognition."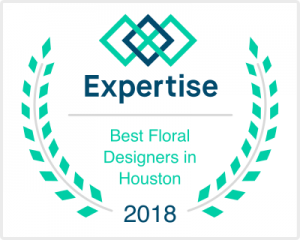 When selecting the Top Floral Designers in Houston, Expertise.com had the goal of connecting people with the best experts in the local area. The ranking service scored floral designers on over 25 variables across five different categories, analyzing the results to provide a hand-picked list of the highest quality floral designers in the Houston, TX area. The five factors considered to create the top 20 list included reputation, credibility, experience, availability, and professionalism.
"Our team is proud to offer gifts and flowers, while specializing in both special and everyday occasions, including thank you, congratulations, new baby, get well, anniversary, birthday and more," continued Kolasinac. "We are extremely immersed in the small business community and located on the outskirts of the Westchase business district, Park Row, and the Energy Corridor. Thanks to Expertise.com Top Floral Designers in Houston recognition, we expect a surge in business due to the prestige that comes with this."
Additional information about the selection of the top 20 list, as well as the services offered by Scent & Violet Flowers & Gifts can be found by visiting the company's website.
ABOUT SCENT & VIOLET FLOWERS & GIFTS
Scent & Violet is dedicated to creating quality flower arrangements for life's everyday and special occasions. The majority of the products created by this florist feature various colors of roses; however, some utilize other blooms such as garden flowers, sunflowers, lilies, iris, delphiniums, and chrysanthemums. There are also unique products offered by the company such as the "Deal of the Day" arrangements, "Put on a Happy Face!" bouquet, Made in Texas gardening and home gifts, and essential oils. Customers are able to order their flowers and gifts online or by phone, and same-day delivery is offered in local Houston areas.
Scent & VioletMedia Contact
hello@scentandviolet.com
(281) 761-6300
https://www.scentandviolet.com/ ExpertiseMedia Contactinfo@expertise.com877-769-7769https://www.expertise.com/