Please note that some flowers from Sympathy and Funeral Collection require some planning and minimum of 48 hours notice. Please call us at 281-761-6300 to discuss options and availability.

If you need to have sympathy gift delivered urgently to the funeral home (in less than 48 hours) please select from sympathy plants  or any of the flower arrangement from our Same-Day Delivery collection.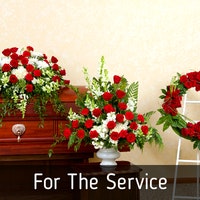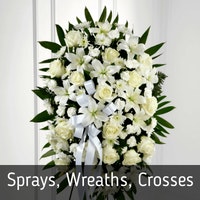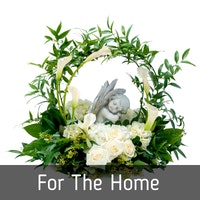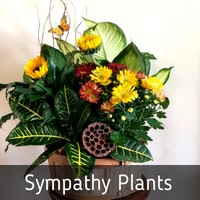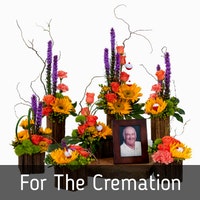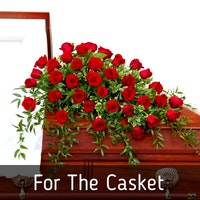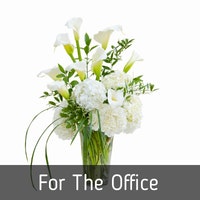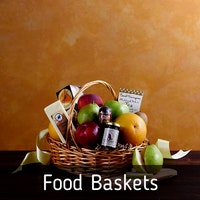 Flower Arrangements For Funerals
Funeral flower arrangements arranged by immediate family members are typically called Family Flowers. Family sympathy flowers will often include a casket spray along with matching floral end pieces. It is common for casket flowers to be ordered by the closest family members, often the spouse, children, or siblings of the deceased.
Matching floral end pieces (typically called standing floral spray) may also be ordered by immediate family or close friends. Floral end pieces can also be wreaths or crosses.
Flowers for Funeral or Memorial Service
Sympathy flowers can be sent to Funeral or Memorial Service (to funeral home, church service, or any other temple of worship). Funeral flowers may include a variety of tributes such as urn surround flowers for the cremation, standing floral sprays on an easel, wreath, traditional funeral floor baskets, flower crosses, simple vase of flowers, plants, and any other expressions of faith, love, and remembrance. 
Other Sympathy Gifts
Sympathy plants are popular choice not only for funeral services. They make a lasting impression and appropriate sympathy gift to be sent to home or place of business. Gourmet food baskets make appropriate sympathy gift to be sent to the home of a family member in mourning.
Sending sympathy flowers
Please select sympathy bouquet or call us directly for funeral arrangements. At Scent & Violet we aim to create beautiful memorial flowers and deliver exceptional floral display to funeral of family of the deceased. It is our goal to help you express your sincerest condolences in compassion and express your sympathy to family, friends, and community in mourning.
Some of our Sympathy and Funeral flower arrangements and most of the sympathy plants are available for same-day flower delivery by Scent & Violet florist in Houston, Texas. Typically, to create quality floral arrangements for funerals, we require advance notice. Send the fresh, hand selected flowers by local florist to the funeral service, visitation or memorial service anywhere in Houston, Katy, Sugar Land, Richmond or Fulshear.
Funeral Homes we deliver to:
Houston flower delivery is available to the following Funeral Homes: Forest Park Westheimer Funeral, Chapel of Eternal Peace, Memorial Oaks Funeral Home, Garden Oaks Funeral Home, Leal Funeral Home, DM Dettling Funeral Home, George H. Lewis & Sons, Bradshaw-Carter Memorial & Funeral Services, McCoy & Harrison Funeral Home, Serenity Funeral Home, Forest Park Lawndale Funeral Home, Unity Funeral Home, Pat H. Foley & Company, Klein Funeral Homes, Earthman Funeral Directors, Crespo Funeral Home, Waltrip Funeral Directors, Santana Funeral Directors, Compean Funeral Home, Brookside Funeral Home, Heights Funeral Home, Johnson Funeral Home, Beresford Funeral Service, Distinctive Life Cremations and Funerals, Santana Funeral Directors, Carter Funeral Home Inc., and Frazier Mitchell Funeral Services, Woodlawn Funeral Home , Felix H. Morales Funeral Home, Service Corporation International, Houston National Cemetery
Katy flower delivery is available to the following Funeral Homes: Schmidt Funeral Home, Katy Funeral Home
Sugar Land and Richmond flower delivery is available to the following Funeral Homes: Sugar Land Mortuary, Settegast Kopf Funeral Home, Earthman Souhtwest Funeral Home, Paws Memorial Service, Caballero Ryder, Compean Funerals, Davis-Greenlawn funeral home.
How to write a sympathy card message:
It is never easy writing a sympathy card message. Often, we can't find the right words to express our condolences. Truth is, no words ever can take away the pain of someone loosing loved one. However, those same words can offer support and show grieving family that they're loved. The same way flowers are there to comfort family of the deceased, well written card message is something worth considering. Read More >>> 
When the time comes to express your condolences and convey your deepest sympathy, Scent & Violet will help you choose a tasteful and memorable sympathy gift.
Funeral flowers and gifts are available for delivery to funeral homes, cemeteries, churches, or temples in our local delivery area only: Houston, Katy, Richmond, Fulshear, Sugar Land, Stafford, Missouri City, Pearland, and Bellaire, and are hand delivered by Scent & Violet, flowers and gifts.