Posted by:

scentandviolet October 8th, 2018
Hypericum is plant, herb and, often used in floral designs by Scent & Violet. While berries that we use in our design have no distinct scent as the plant leaves, the structure and the longevity of hypericum has made it one of the often used elements of our floral design. Looking at it, five floral arrangement on our home page have hypericum berries in them.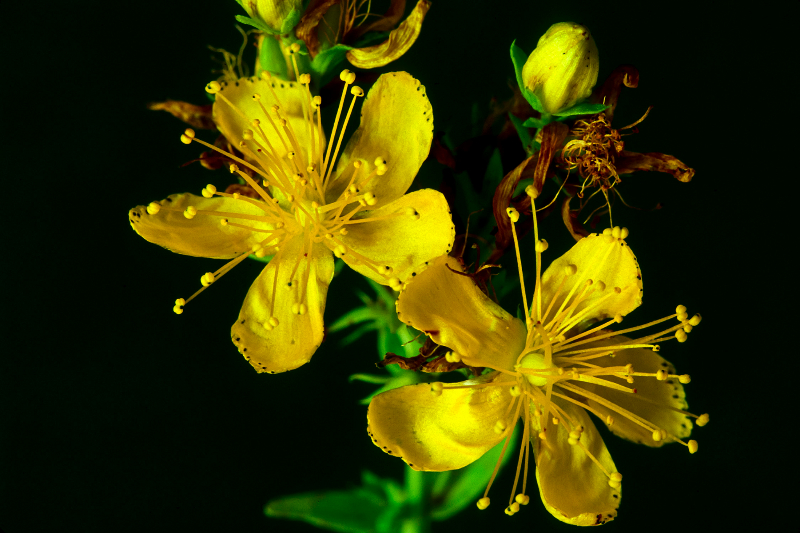 Saint John's Wort is an outstanding herbal remedy steeped in many folk legends and traditions of healing. It has five-petaled, bright yellow blossoms with protruding stamens which flower at the height of summer. This erect, woody-stemmed plant is filled with many oil glands and thrives in sunny, hot and dry conditions, as though exulting in the light.
The Greek name for this plant is Hypericum (also its Latin botanical name), which means "over a spirit." It was so named because it was believed to provide special protection, particularly during the summer months, when there is a tendency to feel overly expanded and adversely affected by heat and light. Later, it was associated with St. John the Baptist, regarded as a great solar adept within the Essene tradition, and whose feast day is commemorated at high summer. Despite the great spiritual power of St. John the Baptist, he pointed to the Christ as the very source of the Sun. His famous words, "I must decrease, so that He may increase," refer to the descent of Christ into the Earth. Through Christ, a solar initiation is possible, not in high summer, but at the midnight hour of winter, when the sun is in the depths of the Earth. The alchemical significance of this great Christ mystery is reflected in the St. John's Wort oil. Also called the "Blood of Christ," the St. John's Wort oil is made from a sun-infusion of bright yellow blossoms of the plant. Gradually, this substance changes to a deep blood-red color.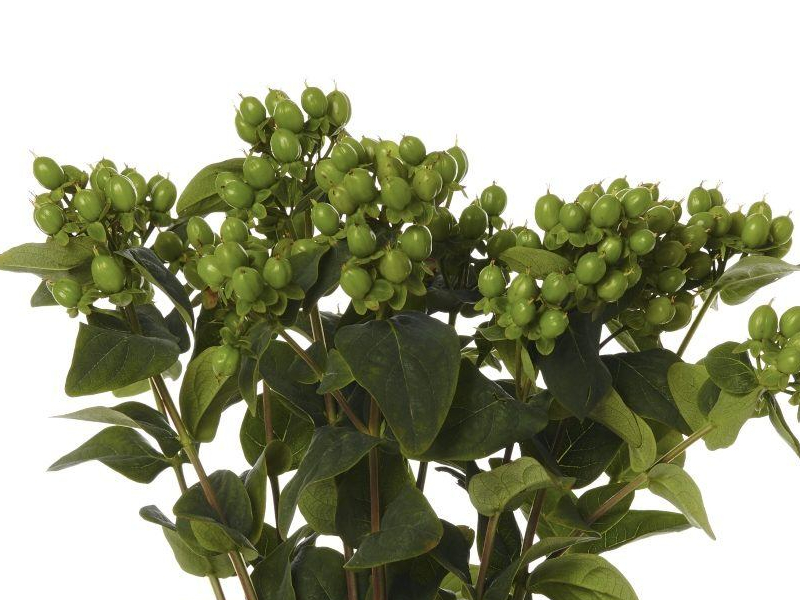 The Hypericum flower has berries used in the florist trade, which are usually red, green, yellow, peach, orange or pink. For example, the green Hypericum berry is found in bouquets and seasonal arrangements. These berries are commonly used because they do not stain and also blend well with a wide array of flowers, such as roses, carnations, and calla lilies.
*** 
Special thanks to Jill for her thorough research, NIH  and Rio Roses for the photos 
*** 
Scent & Violet, flowers and gifts is a full service florist in Houston, TX offering flower, plant and gift delivery in Houston, Katy, Richmond, Fulshear, Sugar Land, Stafford, and Bellaire. We aim to create fuss-free, everyday shopping source for flowers, plants, and gifts. It is our belief that we can create better relationships through gifting, better environments through plants, and better state of mind through flowers.