Plant care: Ceramic dish garden
Posted by:

scentandviolet December 15th, 2018
Help! I received a ceramic dish garden as a gift. What do I do? 
Ceramic dish garden is a collection of jointly grown plants purposely grown to look like a decorative element. There are two ways you can go about it:
1. Leave it as a decorative element and care for it as such or
2. replant each plant individually and care for each plant according to individual plant care instructions.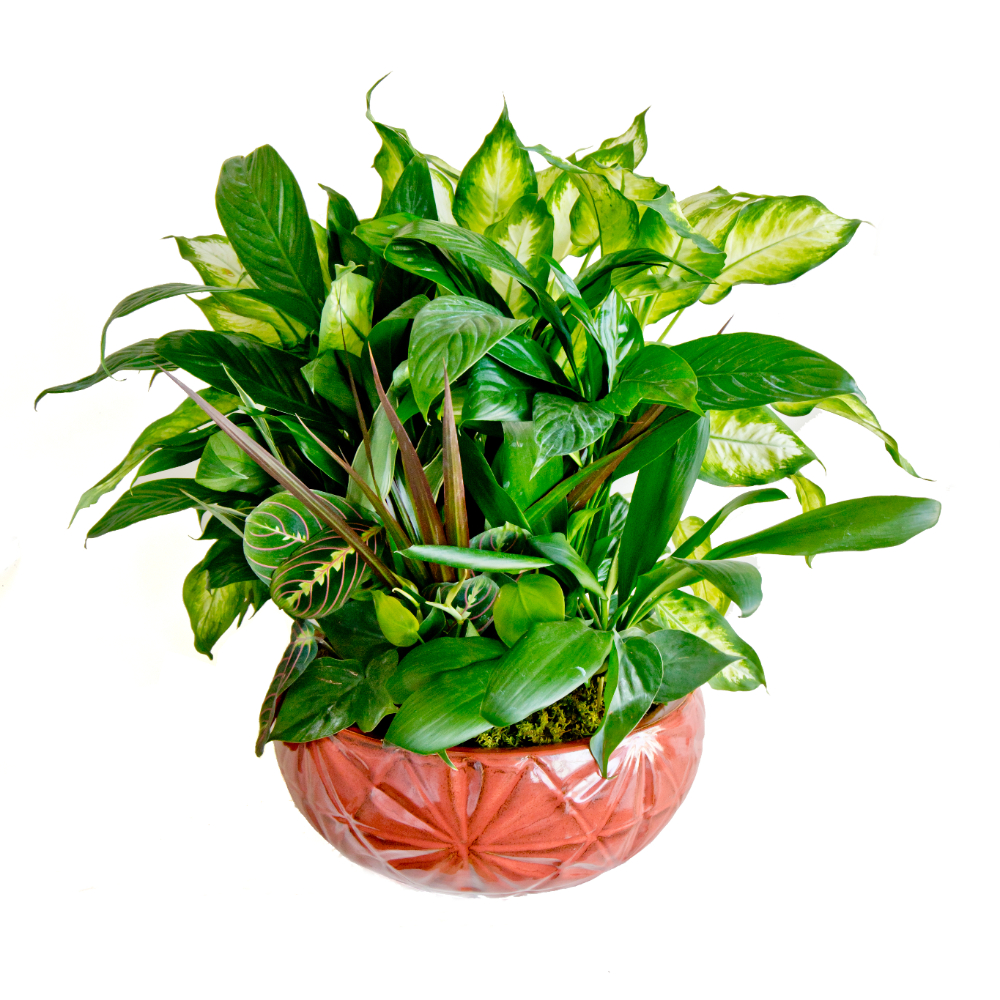 Care for ceramic dish garden as a single unit.
Light: Ceramic dish garden requires indirect sunlight. They will do well 6-8 ft away from windows. Most of the time, ceramic dish garden will have an assortment of plants with similar light requirements. You can keep ceramic dish garden on the office desk, countertop, dining room table, or fireplace.
Watering: This one is a bit more difficult. You have to keep an eye on your plants. In a beginning, we suggest watering twice per week and from there decrease or increase the watering schedule as needed. To water dish garden you will need a watering can with spout or small water bottle (16.9 fl.oz or 500 ml). Water all around your ceramic dish garden (full circle). This will ensure that all of your plants receive water. Keep in mind that ceramic dish garden does not have drainage holes therefore do not overwater. Start with 1-1.5 cups or 250ml -300ml per watering and decrease or increase slightly from there. Different ceramic dish garden size will require different water levels.
Trimming (pruning): Ceramic dish garden kept as a single decorative unit require regular trimming. What this means is: look for dead leaves and cut them off. If any of the plants starts to overgrow others, trim it down a little.
Fertilizing: There is no need to fertilize your ceramic dish garden.
Option 2: Replant each plant individually
- Take plants and soil out of ceramic dish garden.
- Divide plants at root level
- Care for each plants individually according to plant care instructions.
- Re-use ceramic dish garden as a new planter for individual plant or assortment of plants.
***
Scent & Violet, flowers and gifts is a full service florist in Houston, TX offering flower, plant and gift delivery in Houston, Katy, Richmond, Fulshear, Sugar Land, Stafford, and Bellaire. We aim to create fuss-free, everyday shopping source for flowers, plants, and gifts. It is our belief that we can create better relationships through gifting, better environments through plants, and better state of mind through flowers.