Growing the native Texas bluebonnet flower in your garden
Posted by:

scentandviolet June 26th, 2017
One of the best ways to honor Texas heritage and history is by planting its native Texas flowers and plants in your garden. And there's nothing that says "Texas" more than the Texas bluebonnet.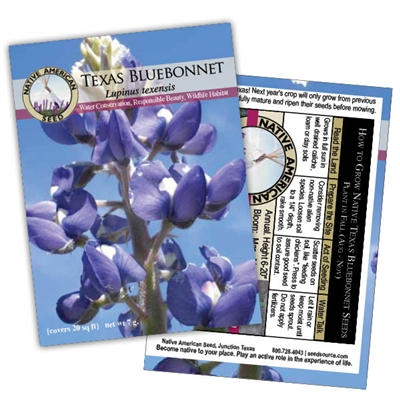 Planting Bluebonnet seeds: 
Bluebonnet is annual plant blooming between March and May.
Where to buy seeds: Scent & Violet carries bluebonnet seeds from Native American Seed Co. 
Soil: Bluebonnet grows in full sun in well drained caliche, loam or clay soil. Consider removing non-native species from the planting area. Loosen soil to 1/4" dept and rake smooth. 
Seeding: Scatter seeds on soil (like feeding chickens). Press to assure they stay in contact with soil. 
Watering: Let the rain take care of it or keep moist until seeds sprout. 
Fertilizers: Do NOT apply fertilizers
When to plant: September-December (before frost) 
Post bloom care: None 
***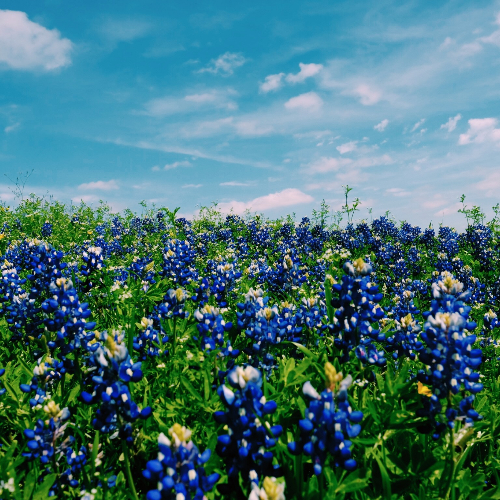 Texas historian Jack Maguire once said, "The bluebonnet is to Texas what the shamrock is to Ireland, the cherry blossom to Japan, the lily to France, the rose to England and the tulip to Holland." And Texas' late Governor W. Lee "Pappy" O'Daniel sang, "you may be on the plains or the mountains or down where the sea breezes blow, but bluebonnets are one of the prime factors that make the state the most beautiful land that we know."  
Although there are technically five Texas state flowers, bluebonnets (Lupinus texensis) are considered the Texas state flower. You've probably noticed carpets of bluebonnets all along highways, planted there years ago by the Texas Department of Transportation. There are hundreds of acres of bluebonnets all throughout Texas.
Ever wonder how the bluebonnet got its name? It's straight from history - pioneer women wore sunbonnets as sun protection that resembled the shape of this flower's petals. Bluebonnets hold a solid place in Texas history, having been mentioned in pre-Columbian Native American writings.
As the state flower, Texas bluebonnets have a special place in the heart of Lone Star State gardeners. You can plant a sea of these vivid blue blossoms, plant them in patches, or use them as border plants. Visit Lady Bird Johnson Wildflower Center, or Scent & Violet for how to.
Bluebonnets are annuals that grow during the winter and blossom from the end of March to mid-May. They thrive in areas with full sun and good drainage, in soil that is slightly alkaline. During seasons with normal rainfalls, bluebonnets only need occasional watering, but make sure not to over-saturate them. Fertilization is only necessary in early spring if seedlings don't seem to be growing well, otherwise they're well adapted to low-nutrient soil and fertilizing isn't recommended.

- Anita
Photo by Roberta Guillen on Unsplash
*** 
Scent & Violet, flowers and gifts is a full service florist in Houston, TX offering flower, plant and gift delivery in Houston, Katy, Richmond, Fulshear, Sugar Land, Stafford, and Bellaire. We aim to create fuss-free, everyday shopping source for flowers, plants, and gifts. It is our belief that we can create better relationships through gifting, better environments through plants, and better state of mind through flowers.