15 Prettiest Native Flowers for Houston
Posted by:

admin January 11th, 2020
The appeal of native plants is no longer overlooked or dismissed, and we are slowly recognizing their role in creating a beautiful, flourishing garden whilst conserving our natural resources. Native Texas flowers grow much better in the Texas climate, attract beneficial birds, insects, and wildlife. They can make up a beautiful, freshly picked bouquet for your table.

Large number of native plants is best propagated by seeds. We found that the best time to plant Native Texas Seeds is October-November >>>>
Lets take a look into some of the most attractive plants growing in our area.

1. Eastern Purple Coneflower - Echinacea purpurea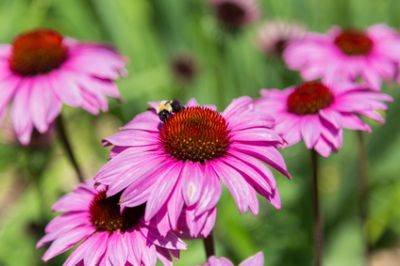 The coneflower is a popular Texan flower. This particular species has a lustrous cone-shaped center with lavender colored petals leading downward. It is the perfect plant to have in your flowerbed because it's a butterfly magnet that blooms profusely through spring and summer. It also does remarkably well when cut, since the tall blooms will last about a week before drooping.
2. Black-Eyed Susan - Rudbeckia hirta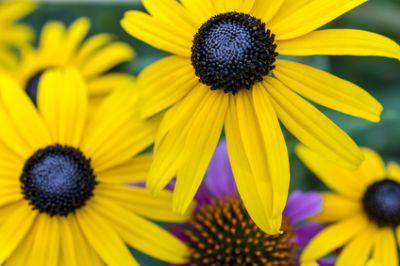 Another type of coneflower, the black-eyed Susan gets its name from its black center. Its petals are a sunshiny yellow and also bend downward. It's perennial, meaning that it will return year after year. As an extra perk, it's drought tolerant and can be as large as five inches in diameter. They're perfect for brightening up the kitchen table when cut.
3. Texas Lantana - Lantana urticoides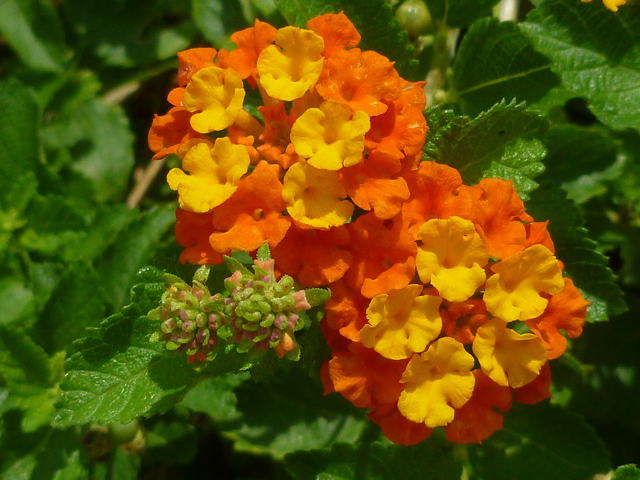 The yellow and orange mixture of blossoms that grow on the Texas Lantana plant are perfect for attracting butterflies. They're also great for coastal areas since they're both drought and salt tolerant. They bloom all summer long and will help keep pesky deer away from your flowerbed.
4. Red Turk's Cap - Malvaviscus drummondii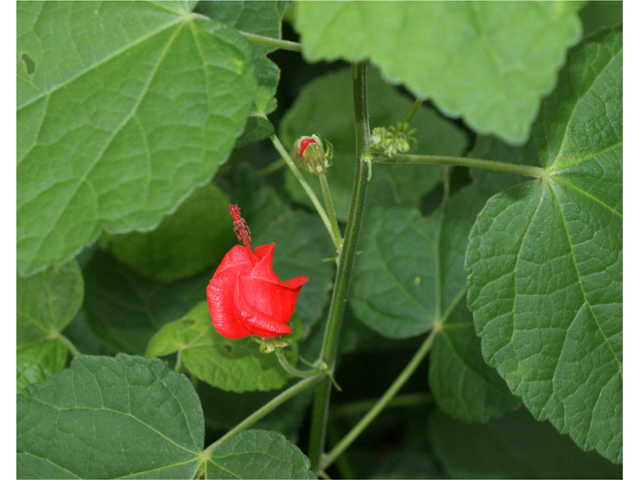 These hibiscus-like flowers blossom all over an attractive shrub. They are pretty little blooms with overlapping petals that never fully open, and antennae-like stamen that protrude from the top. They fair well in the shade, making them perfect for enhancing the dirt area surrounding your trees.
5. Autumn Sage - Salvia greggii

Image courtesy of returntothenatives.com
The autumn sage flower is a tall, red bloom with pale green leaves. They bloom on your sage plant and are in bloom from late spring until the ground frosts. They are perennial, drought-tolerant flowers that love to see the sun. They also happen to be one of hummingbirds' favorite foods.
6. Texas Olive Blossoms - Cordia boissieri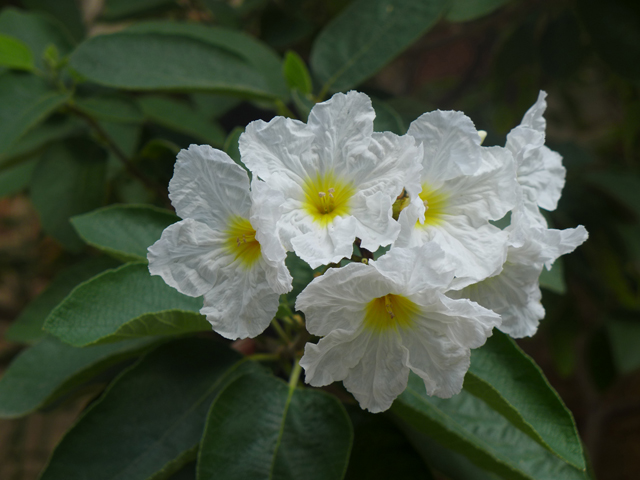 This blossom that grows on the Texas olive tree is a soft-looking white bloom with a yellow, in-set center. This is a very attractive option for your landscaping because the trees are quick to grow and they continually bloom during the summer months. The tree also produces a purple fruit.
7. Indian Blanket (Firewheel) - Gaillardia pulchella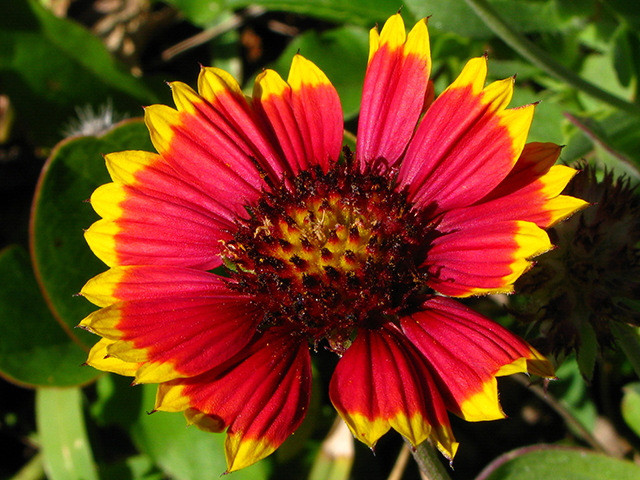 This flower gets its name thanks to its brightly colored red and yellow blossoms. It alternates colors, with yellow at the very center of the stamen, red on the outer part of the stamen and on the petals closest to the center, and then yellow on the outer edges. It's a self-seeding wildflower that uses its bright colors to attract butterflies, and returns every year to full bloom.
8. Gulf Coast Penstemon - Penstemon tenuis
Courtesy of almostedenplants.com
The Gulf Coast penstemon looks like a softer version of a lavender-violet colored daffodil, with a deep center that gradually opens up into five, rounded petals. The blossoms grow in groups on each stem, which makes them the perfect wildflower. They are great for attracting hummingbirds and they flower from spring to fall.
9. Beautyberry - Callicarpa americana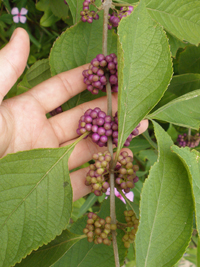 The great news about the beautyberry is that it's pest-free and deciduous, meaning it grows all year round. Technically, this Houston native plant isn't a flower, but its violet bunches of berries give it the appearance of such. The berry bunches grow on a shrub that grows as high as six feet tall, but that can be trimmed for a smaller plant. This plant loves the shade, but can handle the sun if it's watered often enough.
10. Cat Tail Liatris - Liatris pycnostachya

Courtesy of davesgarden.com
If you've ever seen a cat tail, you can picture the cat tail liatris, which has the same shape and texture of a cat tail, but is much prettier. The tall, slender flower alternates deep violet and light lavender from bottom to top. This perennial prairie wildflower grows between 3 and 5 feet tall, which makes it perfect for lining a fence or the side of your home.
11. Mexican Plum - Prunus mexicana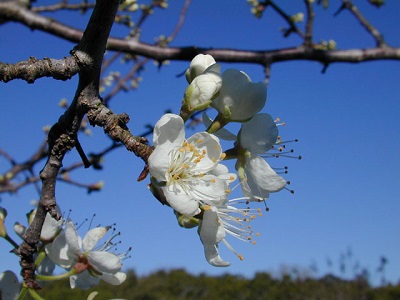 If you love blossoms galore, the Mexican plum tree is for you. During the spring and summer, the tree is covered in pretty little white blossoms that'll turn into plums in the late fall. The tree will grow to about 25 feet by the time it's fully mature, and the blossoms will make your whole yard smell incredible.
12. Gulf Coast Muhly Grass - Muhlenbergia capillaris
This plant is unique to say the least. The green bushes will flower around the fall season, making the tips of the blades look like they're covered in fuzzy purple feathers. The grass easily shapes into an attractive shrub, so it will fit perfectly into your flowerbed without overtaking the space. When cut, they make a beautiful accent for a fresh-flower bouquet.
13. Hinckley Columbine - Aquilegia chrysantha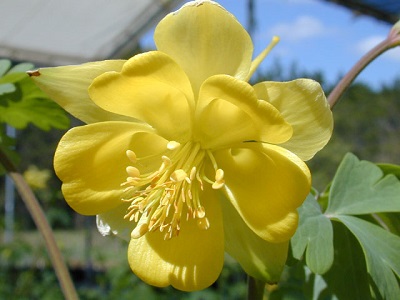 As one of Texas's most beautiful flowers, the Hinckley columbine is a sunny yellow perennial that blooms during the cooler times of spring and fall. It's composed of layered, yellow petals with wispy tentacles surrounding it. It grows on a fine, netted bush with grayish blue tints on the stems, and grows to be about two feet tall. It's a wonderful accent to any tree-side or house-side flowerbed.
14. Giant Coneflower - Rudbeckia maxima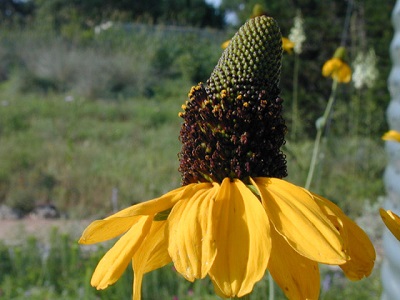 The giant coneflowers get their name because their centers are considerably larger than other coneflowers. They come in a variety of colors including pink, yellow, blue, and lavender, and they can be as tall as six feet when fully matured. They are a perennial flower that loves straight sunlight.
15. Calylophus - Calylophus berlandieri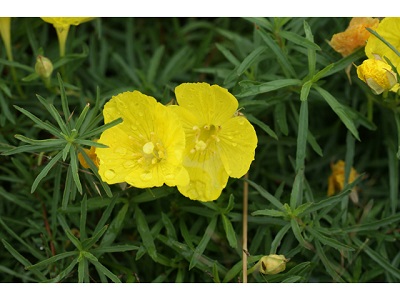 Calylophus (or sundrop) is perfect in a rock garden where it can enjoy direct sunlight. The blossom is bright yellow and looks like a flattened version of a pansy. It's generally comprised of four large, clover-like petals and a stamen that sticks straight up in the center. It will bloom all summer long.
****
Native plants are mostly propagated by seeds. For detailed propagation protocols and instructions, please visit Reforestation Resource Net
Where to buy Native Texas Plants:

Scent & Violet - Native Texas seeds only (flowers and grasses). Shop in person at 12811 Westheimer Rd. Houston, TX 77077 or online - will ship throughout Texas. 
LBJ Wild Flower Center - in person only; 4801 La Crosse Ave. Austin, TX 78739
Joshua's Native Plants - in person only; 504 W. 18th St. Houston, TX 77008
Buchanan Native Plants - in person only; 611 East 11th Street Houston, Texas 77008
Enchanted Gardens - in person only; 6420 Fm 359 Road, Richmond, TX 77406
Nicholson-Hardie Garden Shop - in person only; 5725 W Lovers Ln, Dallas, TX 75209
The Natural Gardener - in person only; 8648 Old Bee Cave Rd, Austin, TX 78735
Native American Seeds - online shopping; Junction, TX 
 ***  
Read more: 
Growing the native Texas bluebonnet flower in your garden >>>
The benefits of native Texas flowers and plants >>>
Native Texas Flowers and Plants: The Lovely Iris >>>
***
We would like to extend our gratefulness to Lady Bird Johnson Wildflower Center in Austin, TX and invite you to donate  whenever possible. Your donation will support education and conservation of Native Texas Plants. 
Our love and gratitude goes out to Aggie Horticulture. We would be lost without you. If you can, please donate to Harris County Master Gardeners Association at AgriLife. 
***
Scent & Violet, flowers and gifts is a full service florist in Houston, TX offering flower, plant and gift delivery in Houston, Katy, Richmond, Fulshear, Sugar Land, Stafford, and Bellaire. We aim to create fuss-free, everyday shopping source for flowers, plants, and gifts. It is our belief that we can create better relationships through gifting, better environments through plants, and better state of mind through flowers.