Personalized Gifts for Your Wedding Party
Posted by:

scentandviolet March 10th, 2021
A wedding party makes all the difference in a successful wedding. They are with you every step of the way, from engagement, bachelor and bachelorette's parties, down to emotional support during the big day itself as well as support after the wedding.
I personally find it imperative to get them a small appreciation gift and, there is no better way to say "thank you" than with a personalized gift. It can be a homemade gift, or you can buy a gift and engrave any personalized "thank you" message. Being a gift shop owner myself (and a local florist that has worked on multiple weddings), I know a thing or two about gifts for wedding attendants, planners, and advisors. 
Hence, when I was recently approached by owner of Bridesmaid Gifts Boutique (and Groovy Groomsmen Gifts) to offer my opinion on his catalogue and select products I gladly accepted. Shortly afterwards I received two products: a tumbler, and a decanter.
Why do we give gifts to Bridesmaids, anyway ?
Bridesmaids play a critical role. Some of them you have met in grade school, college, or even at work, some are your bffs for life, some are your person, your soulmate, and your wedding wouldn't be complete without them - from handing out favors to planning the bridal shower, keeping mother-in-law away, and making sure you look and feel your best, they have multiple responsibilities during your big day. 
Bridesmaid Gifts Boutique (BGB) specializes in gifts for bridesmaids and, offers impressive selection of gifts (some of them I did not know I wanted until I saw them, like floral kimono). But I digress and, before I continue lusting over kimonos and bracelet charms, let me tell you about the tumbler I received. They call it Cupids Tumbler – how adorable is that?
I absolutely fell in love with this tumbler. I find it to be the perfect gift for bridesmaids (or your florist, or wedding planner – just throwing some ideas here).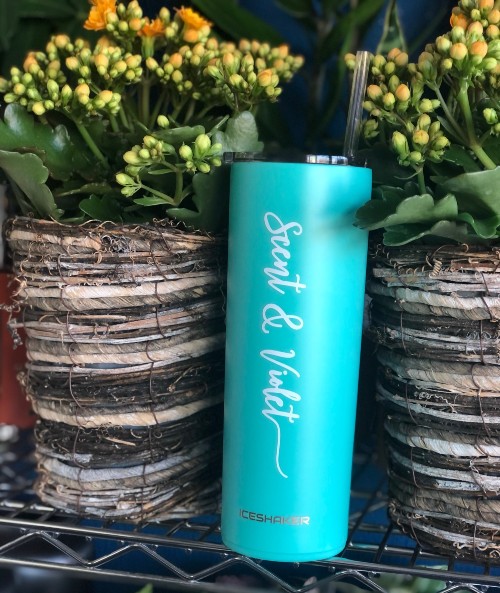 It is fairly simple but super cute tumbler and, practical in the sense that it keeps drinks cold or hot for more than 10 hours thanks to the double-walls and vacuum design. This makes it perfect gift for both cold and warm season. It fits in a standard size cup holder and does not tip over. BGB offers this tumbler in 20 different colors (Black, White, Lilac, Turquoise, Mint, Purple, Navy Blue, Burgundy, Pink, Metallic Gold, Metallic Silver, Metallic Rose Gold, Glossy Rose Gold, Glossy Silver, Glitter black, Glitter Gold, Glitter Silver, Glitter Rosy Gold). My tumbler is turquoise and it looks as Tiffany blue color went to the beach. Let me tell you, the color and entire look of this tumbler calls for blown out hair, pair of stilettos and, oversized sunglasses. You can add French Riviera or Amalfi Coast to it. Regardless of my preferences (black glitter you are next), I am sure everyone can find color that suits them. The reusable Tritan straw also makes it convenient for sipping your drink when in a moving vehicle. Unlike stainless steel or plastic, Tritan is quite durable, it doesn't shatter, and it's not affected by the beverage's temperatures. Tumbler itself has a 20oz capacity, so you won't have to worry about your drink ending too soon. This lid (when closed and without straw) is designed not to spill the drink regardless of how vigorously it's shaken.  Worth noting is that tumbler is BPA-Free?
Lets talk about personalized part. Truth is, I love seeing Scent & Violet on anything (including my fancy tumbler) so I am fairly biased but, this calligraphy script is really pretty. Bridesmaid Gifts Boutique is willing to engrave any names or messages on the tumbler based on your request for free. The messages don't have to be wedding-related. Message can be anything you want (no, not that). The only issue I have with this tumbler, is that the message is engraved with outdoor vinyl, which may start peeling off after some time. Right now, it looks very sturdy and durable but, I cannot estimate how long the writing will stay on.
The tumbler I got is the IceShaker Brand. The IceShaker tumblers were invented by Chris Gronkowski, a retired professional football player, and his brothers. Chris and his brothers made it to the famous ABC channel's Shark Tank in 2017 and, surprisingly, all Sharks were in, including Mr. Wonderful (Kevin O'Leary). They ended up partnering with Mark Cuban and A-Rod, and their brand has been on an upwards trend since then.
Overall – my Cupid Tumbler is cute, stylish and, holds drinks well. I like that BGB decided to carry IceShaker brand because their design is on point. Price for the value and style is great and, it will make a wonderful gift for bridesmaids (club members, support groups, and family reunions). 
What about Gifts for Groomsmen ?
Contrary to popular belief, groomsmen do not just idle around and look elegant, or drink (which is slightly ironic considering the gift we received from Joe). They are the advisor to the groom beforehand. The groomsmen assist the groom in being organized and with any other wedding plans they can. Besides these roles, the groomsmen also: Carry away the gifts and the wedding items after the wedding; dance with bridesmaids and grandmas, keep mother-in-law away; if there are no ushers, the groomsmen show the guests their allocated seats at the venue; they help the groom to be calm and look presentable on the big day, plan and cater for the costs of the bachelor party, attend all pre-wedding events, ensure the music and lighting is on point (super important). I personally have a bit of a soft spot for groomsmen because at almost every wedding, groomsmen helped me carry the flowers around, clean up, light up lanterns and, so much more (you know who you are and this florist appreciates you - xoxo).
All of that being said, I had a problem looking at the decanter from Groovy Groomsmen Gifts (GGG), objectively. Turns out, I prefer girly stuff (like my gorgeous Cupids Tumbler) and could not connect with decanter on any level (football, too). After being told that I cannot use decanter for Fire Cider or Elderberry Syrup or fill it with purple glitter, I decided to turn to my colleague Peter for his opinion on Engraved Decanter we received and, this is what he said:
If your groomsmen are wine or liquor lovers, they will definitely appreciate this personalized decanter. Decanters have been in use since the era of Ancient Romans. It is one of the traditional ways of pouring wine into a glass that is still in practice even today. And what is the one thing that people who have friends for a long time do? They form traditions. Besides serving wine, decanters allow the liquor to interact with the air, enhancing its flavor. While there are decanters made of ceramic, I find crystal or glass decanters to be better since they bring out the wine's color, and they amplify your bar's decor. With these decanter sets, the party will not end even after the ceremony is over. Decanter is made of handcrafted clear glass that can hold up to almost 26 ounces of their wine, cognac, bourbon or whiskey of choice. While it is dishwasher safe, decanters are always washed by hand and the rule is: do not mix your liquors. I like the sentiment of raising a glass in honor of your wedding for many years to come but, what I love the most are four different engraving designs that seem to blend in perfectly with the drink's clarity. Also worth noting is that at Groovy Groomsman Gifts, engraving is included in the price.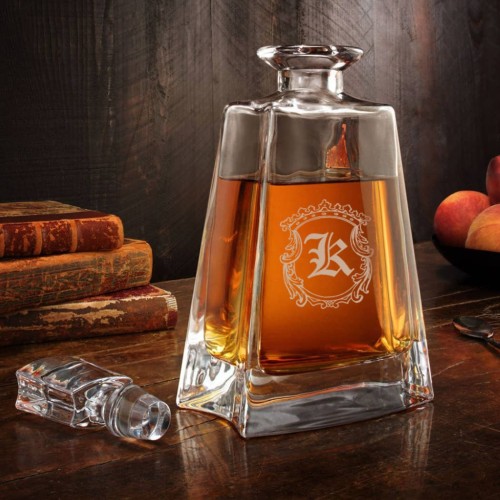 While decanter is not inexpensive gift if you have a large wedding party, the look and value is worth every penny. I would add this decanter to the list of gifts for Father's Day, Birthday, and business gifting too.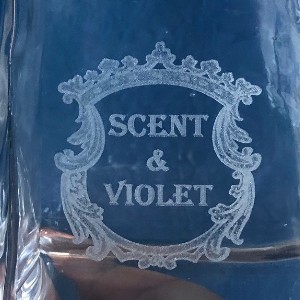 There you have it. A personalized gift goes a long way in letting people that you appreciate them for being there for you. As they take a sip from the Cupids Tumbler or pour a drink from the Engraved Decanter, both the items and the messages engraved on them will remind your wedding attendants of the memorable moments you've spent and will continue spending together.
***
Scent & Violet, flowers and gifts is a full service florist in Houston, TX located at 12811 Westheimer Rd. We aim to create fuss-free, everyday shopping source for flowers, plants, and gifts. It is our belief that we can create better relationships through gifting, better environments through plants, and better state of mind through flowers.
 Our team at Scent & Violet is passionate about helping brides and grooms create the perfect ambiance on their big day. We approach every wedding as unique, and will work with every couple on creating the customized solution according to their wishes and budget. Our floral design is inspired by Houston's cultural diversity and elements of floral designs adopted from various parts of the world.