Plant profile: African Violet
Posted by:

scentandviolet July 25th, 2018
Saintpaulia was given the common name African Violet because the plant originated in Tanzania and eastern Africa, and its flowers resemble violets. African Violets produce blue/violet, pink, fuchsia, and white flowers. Newer cultivars have double and bi-colored flowers. African Violets can be miniatures at about 6 inches in diameter or standard sized which are 8-12 inches in diameter. There are even trailing and hanging varieties.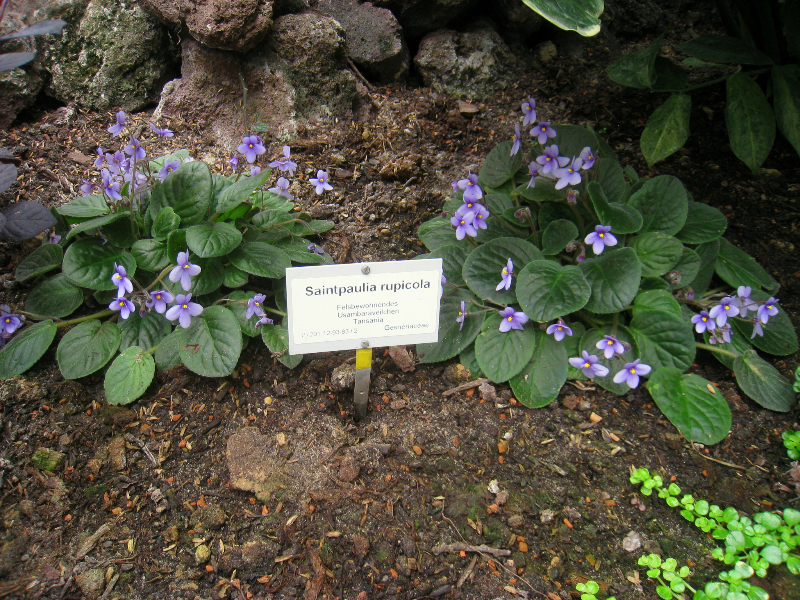 African Violet plants do best and flower more in bright indirect light, such as close to an east-facing window. When the light is too low, the leaves turn dark green, lose their plump appearance, and the plant produces very few flowers. When there is too much light the leaves turn a pale yellow-green and the flowers fade quickly.
Allow the top 1- 2 inches of soil to dry out before watering. Avoid using water that has passed through a softener or water containing chlorine or fluoride. Always water African Violet houseplants from the bottom to prevent water getting on the leaves. Remove any excess water that is still in the saucer after 15 minutes.
Feed African Violets monthly with a designated African Violet fertilizer when the plant is actively growing. Do not over-fertilizing as this can cause leaf tip burn, poor flower production, leaf cracks, and may even kill an African Violet plant.
Keep African Violet plants away from cold drafts and heating vents.
High humidity is preferable, but African Violets  easily adapt to basic household humidity.
Short care instruction: Place African Violets in bright indirect light. Water with filtered water when the top 1-2 inches of soil has dried out. Water the plant from the bottom and remove any excess water after 15 minutes. Feed monthly with a designated African Violet fertilizer.
*** 
Contrary to popular belief, our shop Scent & Violet did not get its name from lovely Saintpaulia. Our little Violet was named after common European violet (Viola odorata). 
***
Special thanks to Jill (our volunteer plant researcher), and 
Berlin Botanical Gardens for the photo 
***
Scent & Violet, flowers and gifts is a full service florist in Houston, TX offering flower, plant and gift delivery in Houston, Katy, Richmond, Fulshear, Sugar Land, Stafford, and Bellaire. We aim to create fuss-free, everyday shopping source for flowers, plants, and gifts. It is our belief that we can create better relationships through gifting, better environments through plants, and better state of mind through flowers.