Plant profile: Dieffenbachia
Posted by:

scentandviolet October 6th, 2018
Dieffenbachia is native to the New World Tropics from Mexico and the West Indies south to Argentina, but widely cultivated as a house plant.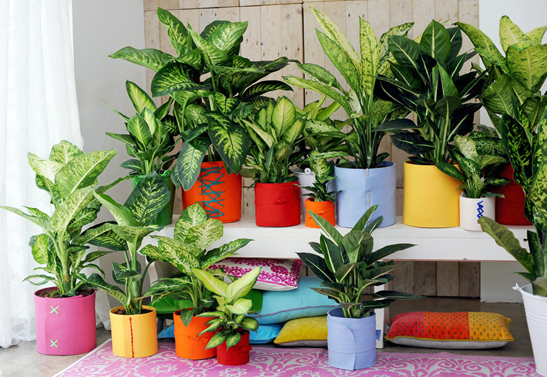 It is a broad-leaved foliage plant with thick succulent stems and available in a variety of leaf patterns. It comes in multitude of species and each one is gorgeous in its own way.
Dieffenbachia likes filtered light (behind the curtain or behind other plants). Light has to be indirect. Note, that each part of dieffenbachia that is facing more light will grow faster so the plant will have to be turned/rotated on regular basis.
Do not overwater. Dieffenbachia prefers well drained soil, and water only when the soil is dry at the touch .
Dieffenbachia is highly toxic plant to pets and children (and any adults tempted for some reason to chew on it). We do not recommend this plant to household with cats. It has to be kept out of reach of children and dogs.
Short care instructions: Place behind other plants, rotate the pot 90 degrees (1/4 turn clockwise) every week. Water ½ cup weekly. Keep away from pets and children.
*** 
Special thanks to Jill for the article and Flower Council of Holland for the beautiful photo of dieffenbachia plants. 
***
Scent & Violet, flowers and gifts is a full service florist in Houston, TX offering flower, plant and gift delivery in Houston, Katy, Richmond, Fulshear, Sugar Land, Stafford, and Bellaire. We aim to create fuss-free, everyday shopping source for flowers, plants, and gifts. It is our belief that we can create better relationships through gifting, better environments through plants, and better state of mind through flowers.