The Fascinating History of Funeral Wreaths
Posted by:

scentandviolet October 9th, 2018
The custom of sending funeral flowers is something we take for granted, but did you ever wonder when this tradition began or the meaning behind the traditional funeral wreath?
For centuries, flowers have had symbolic value, both in general society and for funerals and remembrance services. One of the oldest known uses of burial flowers was discovered during an archaeological excavation of an Iraqi cave, where several human burial sites dating back to 62,000 BC were surrounded by flowers. We may never know exactly when the practice of incorporating flowers into funerals and burials began, but we know it's nothing new.
One more common type of funeral arrangement is the wreath, which is documented as having been used in ancient Greece. A symbol of continuity, the funeral wreath represented the circle of eternal life. When made of evergreens - the symbol of eternal strength because evergreens survive harsh winters - the funeral wreath of early Christian martyrs expressed victory of the everlasting soul over death.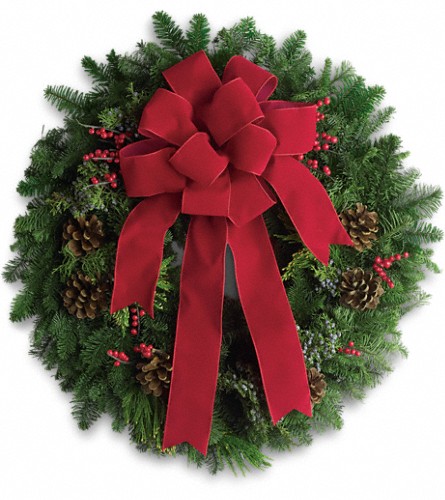 In England during the 16th-18th centuries, the funeral procession of young maidens would be led by a similarly aged young woman carrying a wreath made of white flowers to symbolize the purity of the deceased. In Victorian times, when flowers were practically a language and used as a means of communication, funeral flowers represented resurrection and life. Wreaths were made of specific types of flowers depending on the emotion or sentiment being communicated; the wreath frames were made of willow or cypress branches because both symbolized mourning, as can be seen in Victorian mourning art.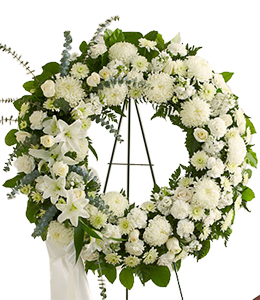 Wreaths are used for war memorials and veterans' remembrance services, and you can see wreaths carved on some tombstones as well. Burials at sea or commemorations of naval losses at sea are most often conducted by placing floating wreaths on the water, and in some cultures the wreaths carry lit candles.
***
Special thanks to Anita, for this fascinating look on funeral wreaths
*** 
Scent & Violet, flowers and gifts is a full service florist in Houston, TX offering flower, plant and gift delivery in Houston, Katy, Richmond, Fulshear, Sugar Land and Bellaire. We aim to create fuss-free, everyday shopping source for flowers, plants, and gifts. It is our belief that we can create better relationships through gifting, better environments through plants, and better state of mind through flowers.