Posted by:

amra February 17th, 2015
Lunar New Year kicks off in full swing among our Chinese-American, Vietnamese-American, Korean-American, and Hmong-American communities in Houston.
 We, are also joining in the celebration with our neighbors, friends, family, and customers.
I went to visit one of my favorite plant houses today and it was packed. I bought my gorgeous yellow mum and all I have to do is get my oranges and I am ready for the visit. Of course, red envelopes with golden string cannot be forgotten for the kids

This is one of my favorite holidays, and the flowers are always spectacular: Orchids, peach and plum blossoms, and of course red or yellow mums.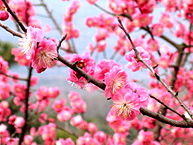 2022

2021

2020

December

November

October

September

August

June

May

April

January

2019

December

November

October

August

July

June

May

April

January

2018

December

November

October

September

August

July

June

May

April

March

February

January

2017

December

November

October

September

August

July

June

May

April

March

February

January

2016

2015

November

October

August

May

April

March

February

2014

December

November

October

July

June