Native American Seeds at Scent & Violet florist in Houston
Posted by:

scentandviolet April 3rd, 2017
Scent & Violet is proud to announce that we are offering Native American Seed products in our shop.
Native American Seed Co offers seeds native to to the Texas-Oklahoma-Louisiana region.
As a local business, here at Scent & Violet we strongly believe in doing our part to improve the quality of our living for future generations. Native plants contribute significantly to water conservation, wild life habitat and, air quality. They attract butterflies, hummingbirds, bees.
About Native American Seeds: What makes us different from many other wildflower seed companies is our commitment to offering superior customer service, and only those plants that are native to our bioregion. You won't find African daisies, bluebonnets that have been grown in China, or even California poppies in any of our mixes. Not because we don't think they're pretty - they are! But because we understand that every ecosystem is a delicate web of relationships that have evolved over centuries. And humans, with all their power of creativity and imagination, must respect the wisdom of those centuries before entering into the processes of nature as active participants.
About Scent & Violet: When we decided to open flower shop, our goal was to create a fuss-free shopping experience. We wanted to be "that" neighborhood store people will turn to, not just for the flowers. We are about the relationships as much as we are about creating beautiful designs. We want our customers to keep coming back, and therefore will not promise something we can not deliver.
To purchase seeds please visit us at 12811 Westheimer Rd. Houston, TX 77077 or Call us at 281-761-6300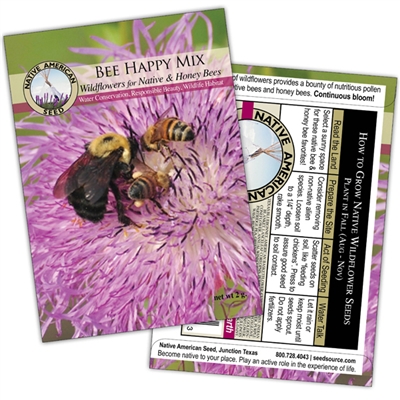 Read more: 
15 Prettiest Native Flowers for Houston area
Growing the native Texas bluebonnet flower in your garden >>>
The benefits of native Texas flowers and plants >>>
Native Texas Flowers and Plants: The Lovely Iris >>>
***
Scent & Violet, flowers and gifts is a full service florist in Houston, TX offering flower, plant and gift delivery in Houston, Katy, Richmond, Fulshear, Sugar Land and Bellaire. We aim to create fuss-free, everyday shopping source for flowers, plants, and gifts. It is our belief that we can create better relationships through gifting, better environments through plants, and better state of mind through flowers.