The essential guide to floristry marketing on a budget
Posted by:

scentandviolet December 11th, 2018
Most of the small businesses (including ours) struggle with allocating appropriate marketing budget. Truth to be told, not too many of us have a written marketing strategy in place (While definitions on what is marketing strategy keep changing over the years we are going to offer our simplified version: Marketing strategy is fully outlined plan on how to communicate products/services and company values to consumers, stakeholders and, public in general). Very often, small businesses confuse marketing and advertising (advertising is and should be just a small part of marketing strategy). Naturally, when I was approached by Pat from ECOMM  Tips offering his two cents on how to communicate on a budget I was interested to hear. While his tip column focuses on floral business, advices offered could be easily applied to many other small businesses. In hopes, that some of the advices offered will help my friends in the floral industry and other small business compatriots – please enjoy. S&V
***
Knowing what to do when you're trying to market your floristry business can be hard, especially if you're doing it on a budget. If you're a small business owner, you might not have enough money for paid ads, marketing agency or, fancy e-commerce tools.
Luckily, there are plenty of ways you can market your business effectively without having to spend your hard-earned cash. We've come up with a essential guide for floristry marketing on a budget — check it out below for inspiration and advice.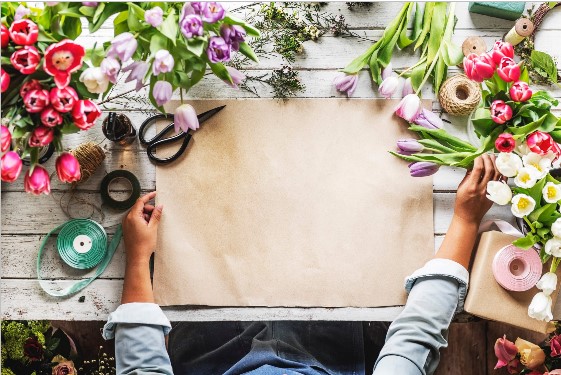 1. Make the most of Instagram and Pinterest
You, as floral designers have one of the most beautiful and visual products there is, so make the most of this by promoting your work on visual platforms like Instagram.
Get creative with how you show off your bouquets, and keep an eye out for Instagram trends. For example, flower crowns, seasonal colors in bouquets, or holding a bunch of your flowers up against an aesthetic background. Include any exciting updates or news you have.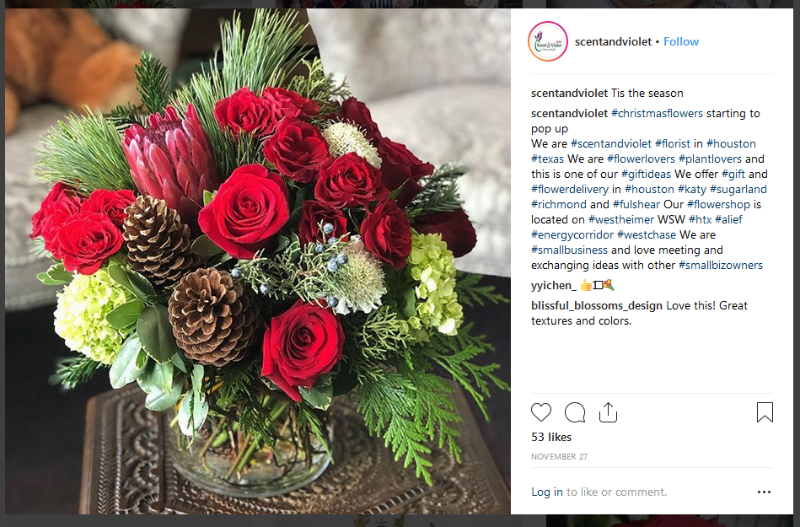 Make sure you're easy to find by using the right hashtags. You can use plenty on Instagram, either by including them in your image description or your first comment. Include ones that people are searching for, such as #wedding, #weddingflowers and #weddingflorist if you do weddings.
Pinterest is another great marketing platform for florists. Many people use Pinterest as inspiration to turn their dreams into reality. In fact, 86% of millennial Pinners use Pinterest to plan big life events such as weddings. With 250 million monthly users, you'd be silly not to make the most of this platform to market your business.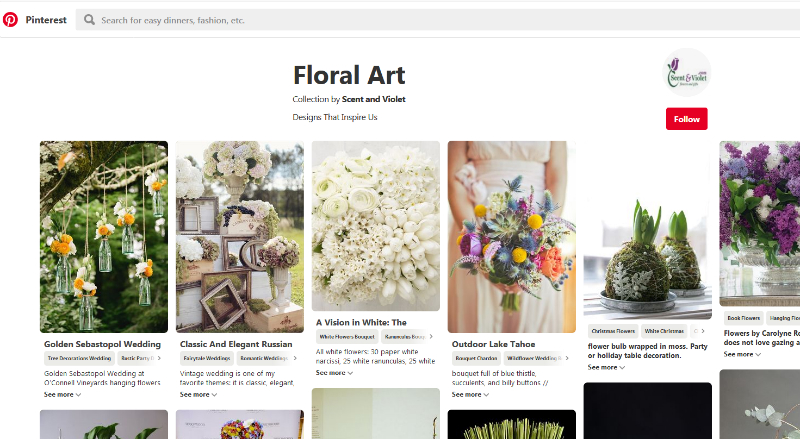 Gone are the days where you had to lug around a huge folder to show to brides! (although you can keep this too, of course.) These platforms are your new portfolio — so take high-quality, attractive photos of your flowers. Instagram and Pinterest is where people will initially establish whether they like your work and if you're suited to them.
2. Plan your marketing strategy
The best way to save yourself money — and time — is to plan how you're going to spend it. If you're an independent business owner, it's very easy to dedicate huge chunks of your week to your business. After all, it's your passion as well as your income. The issue is, this can eat into your family time as well as time you could be spending more productively — such as by making bouquets or plantscaping.
Come up with a plan for your marketing — how often are you going to post on social media? Are you going to pay for additional paid ads? What style of content are you going to write? Be visible — post regularly to keep your audience's attention. Commit to a plan and be consistent in your style of writing and posts.
Use social media marketing tools like Loomly and Tailwind to guide you in your plan, as well as schedule posts and do planning for you.
3. Tell customer stories — as well as your own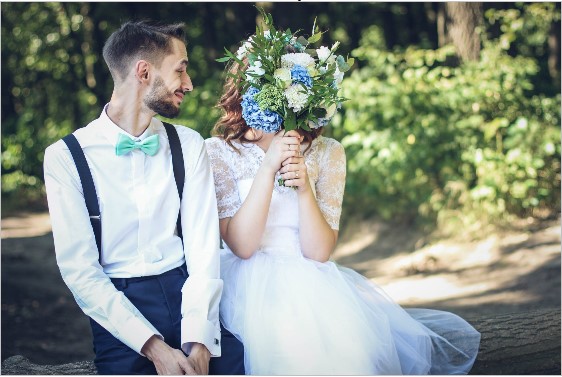 It doesn't cost anything to share customer stories, but it will attract other customers and show that you have a real connection with the people you work with.
Flowers are an intimate thing — they're bought for celebration and for sympathy, for some of the biggest events of our lives. Weddings, funerals, birthdays, illness, apologies, appreciation... Your flowers are special — they connect people and have meaning.
If you've just done the flowers for a lovely couple that are getting married, then wish them happiness for their future marriage when you post a photo of their buttonholes or bridal bouquet. Say how much you enjoyed working with them and helping to create their dream wedding.
If someone's made a romantic gesture and bought their other half a beautiful bouquet, ask if you can share their story. You don't have to name your customers (although if they're happy with this, then do), but you can paint a picture of them.
This is also great for showing your activity in your community too. As a small local business, it's important to build connections with customers as well as other local businesses like venues or chocolatiers (good for joint ventures and pairing presents).
You can use competitor analytics tools and online marketplaces to scout out viable local business partners (for example, if you're based in Houston, check out recently listed Houston online businesses for sale). These tools can show you how successful the site is, and how many followers they have. This will help you to build valuable relationships with the right sort of businesses and websites, whether that's through content partnerships or pop up events.
Consumers are veering more towards shopping local now, so emphasize this aspect of your business. You're a small, local business owner, and it'd be great if they could support you (also cheaper and more environment friendly)
4. Use video content to show off your work
Video marketing is an awesome — and really successful — way to get people to notice your business, and it doesn't have to be expensive either. Plenty of social channels have now incorporated video — just look at Instagram Stories or Facebook Live. Using these functions is free and easy, and will help you to captivate your audience.
You have a super visual product, so show this off in video by drawing attention to tiny details and the high quality of your flowers.
There are all sorts of fun things you can do with video. Here are some examples:
Showing yourself putting together a arrangement 
Film yourself dressing a gorgeous wedding venue, or buying flowers from your supplier
Do a 'how-to' tutorial on flower-arranging
Give a mini 'selfie' interview where you update customer on future plans, or let them know a bit about you (Facebook Live is great for a Q&A format)
It's good to share these videos, as they let your customers get to know you a bit better, and see the hard work and effort that goes into each perfect arrangement.
Remember to keep your videos short and sweet so that you don't lose your audience's attention — or worse, annoy them.
5. Engage with your audience
Marketing isn't just about boosting awareness of your brand — it's about building long-lasting relationships with your customers.
When you post a photo or video on social media, make sure you respond to messages and comments that follow. Be prompt, informative and friendly with your answers. It's free and it'll pay off. They could be potential new customers enquiring about availability and prices — a lack of response or delay could be taken as rude or lazy. The last thing people want when choosing a wedding florist is someone who is hard to get hold of.
Start conversations with your posts by asking questions and get your followers talking. Share stories about yourself and let people in. Marketing is all about making connections. You want to build a loyal community around your business.
As you can see, there are lots of different ways you can market your floristry business on a budget. Don't be scared of using social media platforms to your advantage — they're free, easy to use, and one of the best ways to get your name out there. And don't forget — you can use social marketing tools to help you to plan and post, if it seems a bit daunting.
Focus on the visual and post plenty of photos and videos of your work. Tell stories, and engage with your followers to connect and grow. Easy, friendly, and budget-friendly! 
***
Patrick Foster is Ecommerce Consultant. His work has been featured in Forbes, Digital Marketing Magazine, and Grind. Find his most recent work at Ecommerce Tips  or follow him on Twitter 
***
Special thanks to Inna Lesyk of Pexel  and RawPixel for photos 
***
Scent & Violet, flowers and gifts is a full service florist in Houston, TX offering flower, plant and gift delivery in Houston, Katy, Richmond, Fulshear, Sugar Land, Stafford, and Bellaire. We aim to create fuss-free, everyday shopping source for flowers, plants, and gifts. It is our belief that we can create better relationships through gifting, better environments through plants, and better state of mind through flowers.