How to Create Your Own Urban Oasis in the Backyard
Posted by:

scentandviolet July 24th, 2018
Having someplace to relax and get away from it all without leaving your home is the goal of many city dwellers, and the backyard is the perfect place for that. It doesn't matter if you have a postage stamp-sized lot or a small apartment balcony; any size space can be converted into a peaceful oasis with the addition of a few plants, comfortable seating, and garden decor. In fact, just a 10% increase in green space can have a positive effect on you.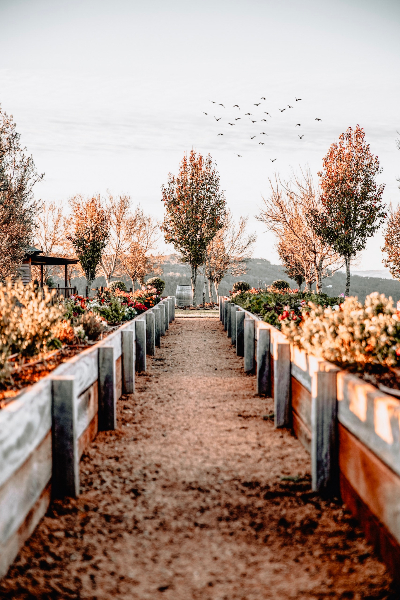 Green is Good
Plants, from ornamentals to flowers and vegetables, are an essential part good backyard planning. Urban gardening is just one kind of city agriculture but it's the one folks are generally the most familiar with. Here, you're limited only by your imagination, the size of your yard, and of course, the conditions of the Texas growing season. Balance your workhorse perennials with a few smaller plants in pots that offer variation in color, texture, and style. For example, plant a border of drought-resistant autumn sage along one side of the yard for three seasons of color. Then, add hardy succulents in flower pots. Group them together to accentuate a corner or end of a planting row, or place them on a deck or backyard steps. Apartment dwellers can simply go with a variety of potted succulents; they typically love the sun and handle dry weather with ease, on a balcony or even a window sill. Container gardens are a great way to maximize greenery in minimal space. Dracaena, grape ivy, and the zig zag iris can all do well in this part of Texas.
Get Comfortable
Once your plants are in, it's time to add the little extras that make a backyard feel like an oasis from city living. Good seating from which to view your beautiful garden makes spending time in the backyard even more enjoyable. And it's all about comfort. Look for chairs, loungers, and even benches with relaxed angles, soft lines, and weather-resistant materials. Look outside your comfort zone; maybe a hammock or glider is right for your space. Consider how the sunlight fills the yard, or doesn't. Would it be worth it to invest in backyard furniture that comes with an umbrella or sunshade?
Accessorize Your Space
With some well-placed garden decor items, your backyard will be the private get-away you need after a long day. Add some backyard lighting to extend the number of hours you can be out in the yard. Strings of small bulbs criss-crossing the yard always look cheerful and festive. Solar-powered post lighting can illuminate walkways or create visual interest along flower beds. Other additions can include pebbled walkways, fountains, and outdoor sculptures to make the space even more personalized. Some folks enjoy adding wind chimes, bird feeders, and ornate, handcrafted pinwheels to set a desired tone. 
Putting together a great backyard starts with choosing a good variety of plants. Mix colors, textures, and blooming times to maximize impact. Add comfortable places to sit and relax, and complete the look with backyard accessories unique to you, like lighting and outdoor decor. Before you know it, you'll be sitting pretty.
*** 
We extend our gratitude to Lucy (our volunteer writer) for this well researched article, and 
Thomas Smith for the beautiful photo (via Unsplash) 
*** 
Scent & Violet, flowers and gifts is a full service florist in Houston, TX offering flower, plant and gift delivery in Houston, Katy, Richmond, Fulshear, Sugar Land, Stafford, and Bellaire. We aim to create fuss-free, everyday shopping source for flowers, plants, and gifts. It is our belief that we can create better relationships through gifting, better environments through plants, and better state of mind through flowers.