Flower Profile: Carnation
Posted by:

scentandviolet October 11th, 2018
Beautiful carnation (Dianthus caryophyllus) was named after Greek word dios (divine) and anthos (flower).
Carnation, beloved staple of European artistic floral design does not enjoy same popularity in USA. There is a reason for that: In the 80s, we saw uprise of "pretend florists" and "grocery store flower shops", who did not know how to design with delicate flowers such as carnation. Instead of investing in proper floral design training, they opted to ruin reputation of one of the most beautiful flowers by calling it "cheap". Our beloved carnations are anything but. European and Asian floral designers continued to appreciate carnations and develop hundreds of new varieties, colors and texture. For some strange reason, we in the US are still stuck in the 80's mode of carnation unappreciation. With the new and young influx of floral designers in US, we are hoping that carnation, our divine flowers will raise back to it's throne.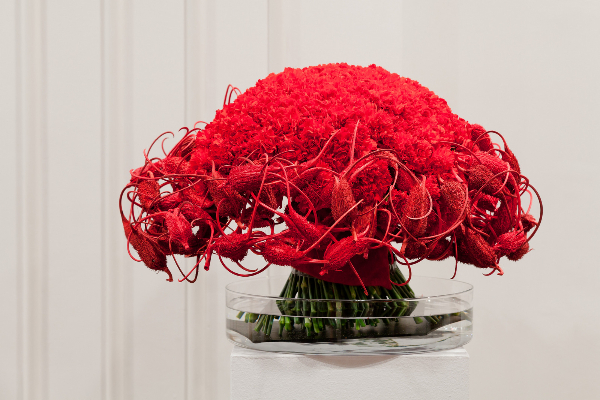 Photo: Floral design by Laurence Hanauer of Fleurs Flora in Strasbourg, France
The carnation is the national flower of Spain, Monaco, and Slovenia, and the provincial flower of the autonomous community of the Balearic Islands. The state flower of Ohio is a scarlet carnation, which was introduced to the state by Levi L. Lamborn. The choice was made to honor William McKinley, Ohio Governor and U.S. President, who was assassinated in 1901, and regularly wore a scarlet carnation on his lapel. Along with the red rose, the red carnation was used as a symbol of women's rights and labor movement, and historically has often been used in demonstrations on International Workers' Day (May Day) and on International Women's Day. In Portugal, bright red carnations represent the 1974 coup d'etat that ended the Estado Novo regime. Florists, use red carnation to express love and passion.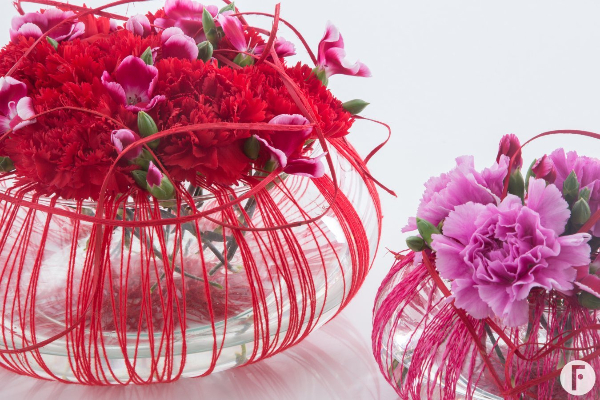 Subtle Valentine Arrangement by Flower Factor 
White carnations, in the Netherlands are associated with HRH Prince Bernhard. He wore one during World War II and in a gesture of defiance some of the Dutch population took up this gesture. After the war the white carnation became a sign of the Prince, veterans and remembrance of the resistance. 
According to a Christian legend, carnations first appeared on Earth as Jesus carried the Cross. The Virgin Mary shed tears at Jesus' plight, and carnations sprang up from where her tears fell. Thus the pink carnation became the symbol of a mother's undying love.
Carnation is the birth flower for those born in the month of January.
Video: Carnation centerpiece by David Ragg 
For the most part, carnations express love, fascination, and distinction, though there are many variations dependent on colour. Light red carnations represent admiration, while dark red denote deep love and affection. Pink carnations symbolize gratitude. Yellow carnations symbolize disappointment or rejection. White carnations represent pure love and good luck, while striped (variegated) carnations symbolise regret that a love cannot be shared. Purple carnations indicate capriciousness. In France, it is a traditional funeral flower, given in condolence for the death of a loved one.
*** 
Special thanks to: Jill for fun carnation facts: Pim Van Den Akker for creating Flower Factor ; David Ragg, artist for his fabulous floral designs and love of carnations, Laurence Hanauer of Fleurs Flora for finding inspiration in everything and interpreting it into floral design and, J. Schwanke for his unwavering love for carnations
***
Scent & Violet, flowers and gifts is a full service florist in Houston, TX offering flower, plant and gift delivery in Houston, Katy, Richmond, Fulshear, Sugar Land and Bellaire. We aim to create fuss-free, everyday shopping source for flowers, plants, and gifts. It is our belief that we can create better relationships through gifting, better environments through plants, and better state of mind through flowers.